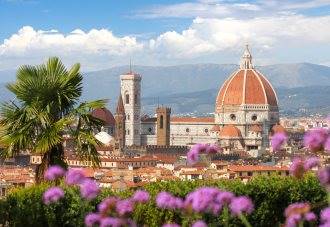 Tuscany Package Holidays
Tuscany is one of Italy's most beautiful regions and is characterised by its gently rolling hills in colours of lush green and gold, its vibrant vineyards and its charming hill-top villages, where you can discover an authentic way of Italian life and intriguing cultural attractions. It is also home to some of Italy's most famous cities and attractions, such as the Renaissance city of Florence with its fascinating art galleries and the iconic Leaning Tower in Pisa.
With such diversity, a package holiday to Tuscany is the perfect choice for a romantic holiday, such as a honeymoon, as well as a cultural family holiday or group trip to Italy. However, with so many charming villages and famous cities to discover, not to mention the glorious Tuscan wine regions, deciding on just one Tuscany resort can be an impossible decision. That's why we recommend a twin or multi centre holiday to Tuscany that allows you to visit more than more city on your Italy holiday. For example, why not combine stays in Pisa and Florence with some time reclining amongst the beautiful scenery of the Chianti region? Or perhaps you would prefer to visit the coast and stroll along the sea-front promenade in Viareggio and then soak yourself in sunshine on one of the beaches on Elba Island? Whatever way you want to discover the iconic region of Tuscany on a package holiday, we're sure that one of our travel experts can hand-craft the perfect Tuscany holiday for you.
We have a selection of Tuscany touring holidays that allow you to visit the top attractions, including packages to Pisa and Florence and vacations to Tuscany's Chianti wine region. All our of Tuscany holidays are customised, which means that you can choose when to travel and how long to stay, giving you complete control over your holiday plans. To find out more about our Tuscany package holidays, please call a member of our expert team on (UK) 01223 637331 or (US) 347-594-5500, alternatively, please click here to send an online enquiry. You can also see a selection of our most popular Tuscany package holidays below, but you can browse the full selection by clicking here.