Tuscany tour: Journey inside the Centro Pecci at Prato
Until 28th January 2018, you can participate in a Tuscany tour featuring three decades of contemporary art presented at Prato's Centro Pecci.
As a part of this recommended Tuscany tour in Prato, you can journey through the Centro Pecci Collection and immerse yourself in the work of sixty Italian and international artists. At this Prato art exhibition, you can explore environmental installations and various video works that represent the synthesis of art in the last half century.
As you make your way through the exhibit, you'll travel through Pinot-Gallizio's "Cavern of the Antimatter" to Fabio Mauri's "Moon" exhibit. Excitingly, Mario Merz's "The Spiral Appears" is also on display – a futuristic work of art that draws influence from the art and architecture seen in Paolo Scheggi's inter-chamber plastic.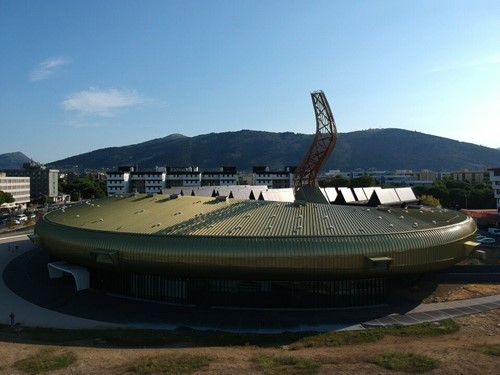 Two highlights of this exhibition are Henrique Oliveira's "Transcorredor" and the star-studded floor by Carlos Garaicoa.
As well as these two works that have been created specifically within the Centro Pecci, here are some more artistic delights that are absolutely worth your time:
The Canoa by Gilberto Zorio
The painting Ri de Pomme by Julian Schnabel
The photographic exploration of Pic-Nic Allée by Massimo Vitali
The metal bas-relief Untitled (mountain) by Enzo Cucchi
The live flames surrounded by knives by Jannis Kounellis
The expansive material painting by Marco Gastini
The metamorphoses inspired by the insect world by Jan Fabre
Ilya Kabakov's imaginative blue flyer and yellow pencil concert
The modular concretion by Loris Cecchini
The pictorial embroidery of Shirazeh Houshiary
The emblematic nudeback man by Michelangelo Pistoletto
Multibed # 1 dialectic by Vito Acconci
The female icon of the Jacqueline by Andy Warhol
The feminist self-determination of VALIE EXPORT
The famous cut on canvas by Lucio Fontana
A felt engraved and hung by Robert Morris
The plastic dichotomy of Anish Kapoor's stone
The spatial suspension of the table by Marco Bagnoli.
If you're interested in visiting Prato's Centro Pecci the next time you visit Tuscany or if you would like one of our travel experts to put together a customised Tuscany package holiday for you, please contact us via our online form or contact us directly at (UK) 01223 637331.
Search Keywords
Enter keywords below to perform a search within the events to find more relevant posts