Tuscany: Italy's most popular destination
With its rolling hills of green, vibrant vineyards and intriguing cities, it's no wonder that Tuscany has taken the top spot as Italy's Number One holiday destination for Italian tourists.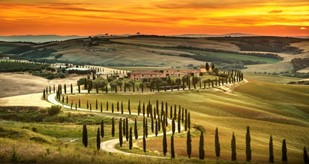 Thanks to Italy's wealth of attractions, famous cities and sublime coastal resorts, many Italians choose a "staycation" over travelling abroad for their summer vacation. And according to the most recent Confturismo-Istituto Piepoli Observatory survey, Tuscany is the top choice for Italians looking to holiday at home, with Puglia and Sardinia taking the second and third spots.
Part of the reason why tourists love Tuscany is the wealth of attractions and the diversity of the sights – afterall, where else in Italy could you find vibrant cities of unrivalled Renaissance beauty as well as sublime coastal resorts and, of course, Italy's most famous wine regions?!
As well as Italian tourists, Tuscany attracts visitors from across the globe and the Tuscany Tourist Promotion survey has predicted that summer 2017 will see an increase in visitors from outside of Italy visiting the region, with many choosing the famous city of Florence for their Tuscany vacation. However, if you're thinking about a holiday to Tuscany, we highly recommend a twin- or multi-centre package that allows you to visit more than one resort in Tuscany on a single holiday. Some of our favourite combinations include:
If you're thinking about a holiday to Tuscany and would like to find out more about our tailor-made Tuscany package holidays, why not call one of our friendly travel advisers on (UK) 01223 637331 or (US) 347-594-5500. We will take the time to listen to what you want from your Tuscany holiday and will then put together the perfect hand-crafted vacation for you, featuring all the cities you would like to visit, as well as any optional tours that you would like included. Alternatively, if you need some vacation inspiration, why not browse our selection of Tuscany package holidays, which are available from £699 per person? Click here to see more.

Search Keywords
Enter keywords below to perform a search within the events to find more relevant posts