Secrets of the Tuscan aperitivo
The Italian aperitivo is engrained in local culture, and a must-try on your Tuscany package holiday.
In Italy, there is a whole culture around food, and the Italian aperitivo (pre-dinner drinks and snacks) is a huge part of socialising in Italy. Tuscany, in particular, is a wonderful place to sample the iconic Italian aperitivo and a must-try on your Tuscany package holiday.
About the Tuscan Aperitivo
In Tuscany, the aperitivo consists of a pre-dinner drink accompanied by a (usually) salty snack, such as cured meats and cheeses, and bruschetta. But that's not all: one very important part of the Tuscan aperitivo is a group of good friends who you can share this experience with!
The word aperitivo originates from the Latin verb aperire, which means "to open", representing the role of the aperitivo in stimulating the appetite (or "opening the stomach"). Typically, Italian friends will gather at a local bar to enjoy an aperitivo on a Friday or Saturday night, before enjoying a decadent meal out.
Italian Aperitivo: The Drinks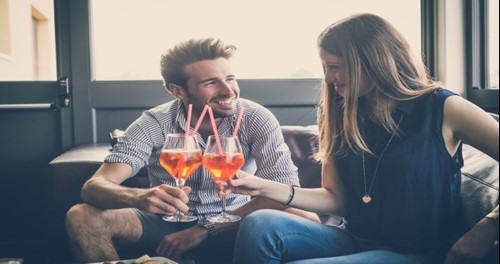 The classic Italian aperitivo includes a dry, bitter-based cocktail, such as an Aperol Spritz or Campari. Other popular choices include the Americano made with Campari, sweet Vermouth and soda, or a Negroni, which is a Florentine specialty, made with Gin, sweet Vermouth and Campari.
If you're not keen on bitters, opt for a glass of prosecco or a local Sangiovese wine.
Italian Aperitivo: The Food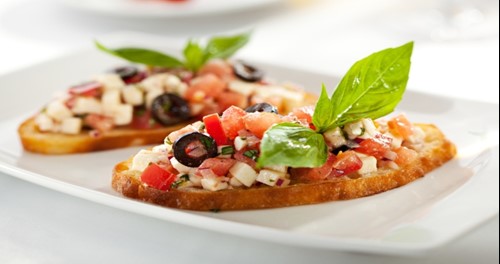 The snacks included with your Italian aperitivo vary from place to place, which is a good excuse to sample an aperitivo at a few bars on your Tuscany package holiday!
At small cafes, crisps, olives and peanuts are typically served, while more up-market bars will bring sliced meats, cheeses and bruschetta. You may even find some bars offering a free buffet, with soups and pasta!
How to Order a Tuscan Aperitivo
If you would like to try an Italian aperitivo during your Tuscany holiday, simply head to a local bar or café around 6 or 7pm on a Friday or Saturday and order a digestive drink, such as an Aperol Spritz. In most bars, your drink will arrive at your table accompanied by a platter of sliced meats, local cheeses and vibrant bruschetta. In more casual bars and cafés, you may be presented with salty crisps or savoury biscuits, or there may be snacks available at the bar that you can pick from.
Enjoy an Italian Aperitivo on a Tailor-made Tuscany Package Holiday
We specialise in tailor-made Tuscany package holidays, featuring glorious cities and countryside resorts. As a part of your hand-crafted Italy holiday, we can arrange:
Return flights from your choice of airport
Private car airport transfers in Italy
Accommodation (to suit all budgets)
Inter-city transfers (private car or high-speed rail)
Tours and day trips (click here to see our favourite Tuscany tours)
Entry tickets to popular attractions
Restaurant reservations
Car hire
If you would like to find out more about our Tuscany package holidays, call an expert member of our travel team on (UK) 01223 637331 or (US) 347-594-5500. Alternatively, for a personalised holiday quotation suited to you and your budget, click here to send an online enquiry.
Search Keywords
Enter keywords below to perform a search within the events to find more relevant posts