Holiday among the vineyards: Food and wine estates in Tuscany
The latest trend in the field of food and wine tourism in Italy is a touring holiday through the country's iconic wine regions.
With its rolling landscapes and vibrant vineyards, Italy is the ideal destination for foodies wanting to enjoy the freshest produce and sample rare vintage wines from the country's famous wine regions. And it is for this reason that food and wine touring holidays of Italy are becoming more popular, with more than 6.5 million tourists flocking to Italy every year and two out of three vistors citing food and wine as two of the reasons why they chose Italy as their ideal holiday destination.
With this in mind, it is no surprise that many holidaymakers visiting Italy choose Tuscany for their holiday – a region that welcomes around 3.5 million tourists every year thanks to its charming country landscapes and idyllic wine regions.
If you're thinking about a food and wine touring holiday of Tuscany and want to be sure to visit the best wine estates, here is our selection of the top three wine resorts to visit on a Tuscany wine holiday.
1. Il Borro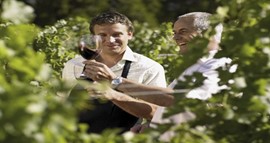 Il Borro is a 5-star resort in Loro Ciuffenna in the heart of Tuscany, southeast of Florence. The wine estate spans 700 hectares, with the hotel at its heart, residing within a 19th century villa that boasts a well-stocked wine cellar with vintages from Il Borro's native vines.
The grapes grown on the estate are predominantly Sangiovese, but there are also Merlot, Cabernet, Sauvignon and Petit Verdò vines that are thriving in the rich Tuscan soil. There is also an on-site wine and art gallery that is a joy to discover and features masterpieces from Goya and Manet, as well as contemporary works by Warhol and Picasso.
If you choose to stay at Il Borro, then we think you'll be delighted with the discreet luxury of the hotel rooms, which maintain a charming Tuscan style but still have that air of decadence that you would expect from a 5-star resort. The hotel also boasts a swimming pool and a spa – we highly recommend the DiVino treatment, which includes a unique and rejuvenating massage using grape seeds from the fruits grown on the estate. Plus, at the end of the treatment you can even relax with a glass of Il Borro wine!
There are also three restaurant to discover at Il Borro: Osteria del Borro, which is the hotel's gourmet restaurant with views of the surrounding vineyards; the Tuscan Bistro, serving classic Tuscan dishes in a large open cellar, which has all of Il Borro's vintages since 1999 on display; and the VinCafé, which is an ideal meeting point or a place where you can enjoy a light lunch and a glass of fine wine.
To find out more, please visit the Il Borro website by clicking here.
2. Castello di Albola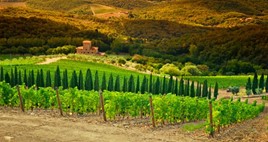 In the heart of the Chianti Classico wine region you can find Castello di Albola – an ancient stone castle in the small town of Radda in Chianti, which sits in the heart of the DOC region that produces the famous Chianti wine.
The castle sits on a wine estate owned by the Zonin Family that spans 900 hectares, with 157 cultivated vines, and there are two villas near the castle that offer accommodation to holidaymakers eager to discover the Chianti region. Of these, Villa Le Marangole has only seven rooms and overlooks the vineyards, while Villa Crognole has views of the ancient castle and can accommodate six people, making it an excellent choice for families.
To find out more, please visit the Castello di Albola website by clicking here.
3. Castello Di Velona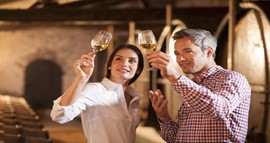 While Castello di Albola offers all the delights of a rustic Tuscan castle, Velona Castle brings luxury and decadence through its 5-star hotel, spa and winery. Today, only the original tower remains intact and the castle has been fully restored and transformed into a luxury villa, decorated with frescoes by Ignazio Danti.
The hotel features 44 rooms and suites that offer views of the Val d'Orcia wine region and there is a newly opened wing of the hotel where you can sample local Rosso and Brunello di Montalcino wines. There is also a restaurant with a panoramic terrace and also a luxury spa, offering holistic treatments with locally grown grapes and olive oil.
However, it is not just the wine that this estate in Tuscany is famous for, as you can also enjoy truffle hunting, falconry, astronomy tuition and test drive a Ferrari as a part of your stay!
To find out more, please visit the Castello di Velona website by clicking here.
Tuscany Wine Tours
We think one of the best ways to appreciate the diversity of Tuscany's wine regions is with a touring holiday of the best estates. We specialise in tailor-made holidays to Tuscany and can arrange the perfect Tuscany wine tour for you, featuring the wine estates described above or other wine resorts in Tuscany that you prefer. By listening to what you want from your Tuscany holiday, our travel experts will be able to advise you of the best wine resorts for you and will be able to create the perfect holiday itinerary for your needs and budget. To find out more about our wine tours of Tuscany, why not chat to one of our expert travel advisers – call us locally on (UK) 01223 637331 or (US) 347-594-5500, or click here to send an online enquiry.
Alternatively, you may prefer our popular Tuscany Wine Experience, featuring Florence, Impruneta and wine-tasting in the Chianti region – it's the perfect balance of city vibrancy and country relaxation.
Search Keywords
Enter keywords below to perform a search within the events to find more relevant posts