Four unforgettable Tuscany holiday destinations
As the central region of Italy, a Tuscany holiday is one of the most popular vacations for holidaymakers. Renowned for its Renaissance art and architecture, Tuscany is full of stunning sights.
In addition to all the incredible man-made works of art, the rolling landscape of Tuscany is a thing of wonder. With blossoming vineyards and truffles growing here, Tuscany is home to some of the freshest produce in Italy.
Since Tuscany has so much to offer, it can be challenging to decide which places to visit first. Thankfully, Tuscanypackageholidays.co.uk is here to jump start your vacation inspiration with four unforgettable Tuscany holiday destinations.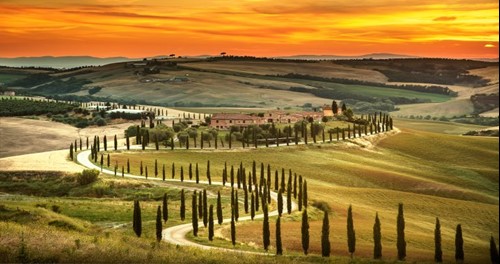 Florence
We're going to start our list with Florence, the capital Tuscany and a spectacular city dense with activity. Largely considered as the birthplace of the Renaissance, you'll find evidence of this throughout the city.
When you travel to Florence for your Tuscany holiday, you'll be in awe of the assortment of Renaissance works on display and there are several art galleries that you can discover.
Some of the world's most notable man-made achievements have made their home in Florence, including the following highlights:
The Florence Cathedral, also known as the Duomo or the Cathedral of Santa Maria del Fiore, built in the 1200s and immediately recognisable by its red-tiled dome.
The world-famous statue of "David" by Renaissance Italian sculptor Michelangelo.
The iconic Renaissance art museum, the Uffizi Gallery. A building created in the 16th century that now holds an impressive collection of Renaissance masterpieces.
With so much to offer, Florence is positively bursting with things to do.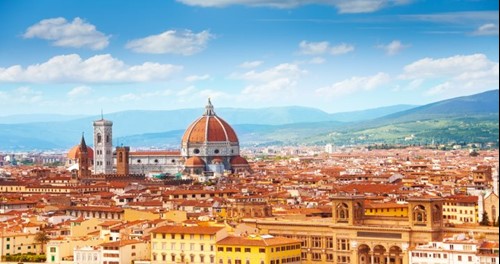 Pisa
Known the world over for its famous Leaning Tower of Pisa. This 14th-century tower has attracted visitors from around the world.
Beyond this iconic tower, Pisa is full of architectural wonders. There's the impressive Pisa Cathedral, the Renaissance Knights' Square and Santa Maria della Spina, a 1230s Pisan Gothic-style church.
The city has a wealth of impressive buildings, each with their own rich history. However, if you're looking for an authentic Italian experience, Pisa is more than ready to welcome any Tuscany holiday visitors.
Full of exciting places to see, things to do and food to try, Pisa also has numerous cafés, bars and restaurants all over the city. With so much selection available, Pisa will provide you with an Italian experience that'll soon have you falling in love with the city.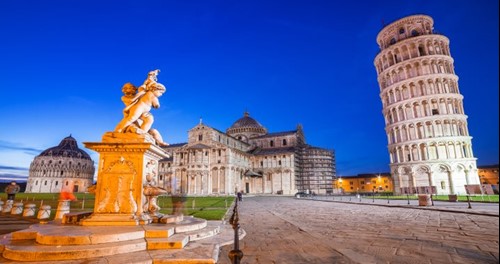 Siena
Looking toward central Tuscany, you'll find the medieval city of Siena. This enchanting city is the capital of the province of Siena and a place where you'll find an abundance of historic treasures.
As one of the top Tuscany holiday destinations, Siena's Piazza del Campo is a must-see destination. This central piazza is home to numerous restaurants, cafes and is a popular destination for public events, including the famous il Palio, Siena's iconic horse race.
Like most of Tuscany, Siena also features some of the finest architecture in all of Italy. A fine example of this is the Siena Cathedral, a medieval masterpiece that has been standing since the 1200s.
As with all the Tuscany cities on this list, Siena is impressive in its sheer variety. You'll find rich historic architecture and traditions alongside contemporary Italian cuisine. All these distinct attributes culminate in an unforgettable Tuscany holiday experience.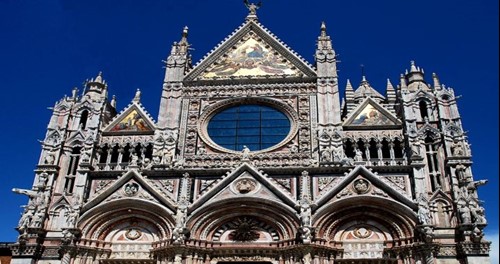 Lucca
Sitting on the Serchio river, this picturesque city is well-known for its Renaissance walls that surround the city centre. This Tuscany holiday destination is also the capital of the province of Lucca.
As a historic city, with structures from the 16th and 17th centuries, Lucca has plenty to marvel at. Lucca's distinct cobblestone streets and preserved architecture fill this Tuscany holiday destination with character.
Discover the past in this incredible city with impressive structures such as the grand Lucca Cathedral. This 11th-century building stands proudly at the heart of Lucca all these centuries later. There's also the San Michele in Foro, a church built in the 1100s, with uncanny symmetry. But one of the top Lucca attractions is the Guinigi Tower with its skyline garden – the view from here is well worth the climb!
Lucca is another exemplary case of an Italian city still in touch with its past. Excellently preserved and constantly admired, Lucca is, without a doubt, an unforgettable Tuscany holiday destination.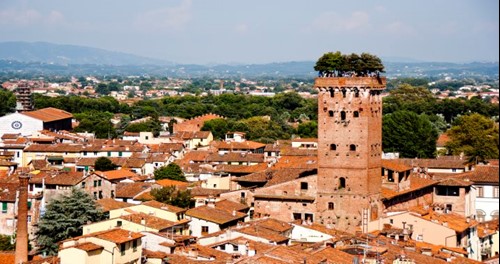 Get in Touch
These Tuscany holiday destinations are each fine examples of the beauty found in this great Italian region. History is so perfectly preserved in each of these cities as buildings still stand centuries later.
If you're interested in getting up close to history and discovering these incredible cities on your next Tuscany holiday, get in touch with our Italy travel experts today.
We cater to any requirements and can book you a holiday fit for any occasion. For more information, please contact us via our online form or give us a call directly at 01223 637331.
Search Keywords
Enter keywords below to perform a search within the events to find more relevant posts