Arezzo: the perfect destination for Christmas in Tuscany
As is the annual tradition, the city of Arezzo will turn on its Christmas lights on 25th November 2017 – a treat for those enjoying Christmas in Tuscany.
Arezzo is one of Tuscany's hidden gems and sits in the east of the region not far from Siena. Despite sitting off the tourist trail, the city has much to delight holidaymakers. This is especially true at Christmas time, when Arezzo is beautifully decorated with Christmas lights and festive decorations.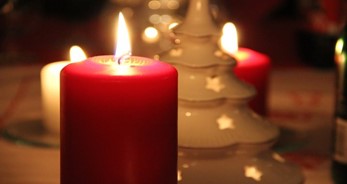 In 2017, Arezzo's Christmas lights will be on display from 25th November 2017 until 7th January 2018. The delight of seeing Arezzo's historic attractions, such as the Church of San Francesco and Piazza Grande, lit up with magical Christmas lights makes this charming city a must-visit during Christmas in Tuscany.
During this Arezzo festival, called Arezzo Città del Natale, there will be a special programme of events. In particular, the Tyrolean Market will return to Piazza Grande and will remain open to the public until 26th December 2017, giving holidaymakers the chance to browse local crafts and buy unique gifts. Visiting Arezzo for Arezzo Città del Natale also means that you can delight in the city's many architectural attractions, which look even more beautiful set against the crisp winter sky.
Attractions in Arezzo
Over the previous two years that Arezzo Città del Natale has taken place, it has attracted more than a million visitors. The crowds no doubt come to experience the magic of Arezzo's Christmas lights and markets, but there are also numerous attractions in Arezzo to enjoy if you're spending Christmas in Tuscany.
Church of San Francesco
This is perhaps the most famous church in Arezzo. It features a magnificent early Renaissance fresco, designed by Piero della Francesca – an Italian painter, who was originally from Sansepolcro near Florence. The fresco depicts the Legend of the True Cross and attracts visitors year-round, but is a place of particular spiritual significance during Christmas in Tuscany.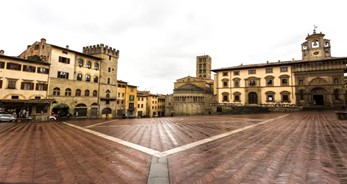 Piazza Grande
Up the hill from the Church of San Francesco is Piazza Grande – Arezzo's main square. This is where you will find the local market, as well as the special Arezzo Città del Natale market. Piazza Grande is well-regarded as the finest in Arezzo and we highly recommend taking the time to enjoy this square during your Christmas in Tuscany.
The square sits at the heart of the city and features buildings of varying architectural styles, including Palazzo delle Logge and Palazzo della Fraternita dei Laici, which features a Gothic and Renaissance facade.
Fortezza Medicea di Arezzo
As those interested in Italian history know, Italy has a turbulent past and many cities feature fortresses designed to protect them. Arezzo is no exception so don't miss out on visiting the 16th-century Fortezza Medicea di Arezzo during your Christmas in Tuscany. The fortress was designed by Antonio da Sangallo the Younger in the shape of a five-pointed star – something that is typical of military architecture from the 16th century. Today, a public park surrounds the fortress, which looks particularly lovely on a crisp winter's day as it offers views of the city, the Arno River and Pratomagno.
Christmas in Tuscany
Tuscany is one of our favourite destinations for Christmas in Italy as there are plenty of Christmas markets to explore, as well as special churches that offer a spiritual atmosphere that is truly captivating at this time of year. If you would like to visit Arezzo during Christmas in Tuscany, we recommend basing yourself in Siena or Florence as you can easily reach Arezzo from both these cities by train.
If you're thinking of enjoy Christmas in Tuscany in 2017 or 2018 and would like to find out more about our tailor-made Tuscany package deals, why not call a member of our expert team on (UK) 01223 637331 or (US) 347-594-5500. As a part of your personalised Christmas in Tuscany, we can arrange a day trip to Arezzo so that you can enjoy Arezzo Città del Natale, and we can also arrange special winter day tours, such as a winter wine-tasting experience in Chianti. For a personalised quote, please click here to send us an online enquiry – we typically respond within 24 hours.
Search Keywords
Enter keywords below to perform a search within the events to find more relevant posts