About Chianti wine
Of the wine regions in Italy, Chianti in Tuscany is one of the best known, producing the classic Italian red wine of the same name.
The Chianti wine region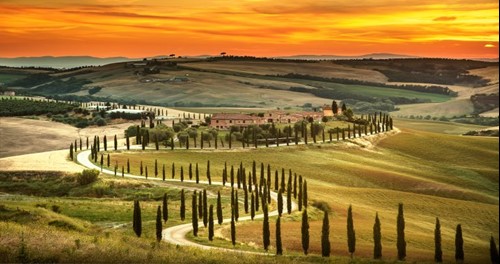 The Chianti wine region sits amongst rolling country scenery in the heart of Tuscany, just south of the city of Florence, making a wine-tasting tour of Chianti an easy day trip from the Renaissance city.
The landscape has a richness that makes for the perfect grape-growing conditions, with clay-limestone soils and a mountain backdrop that protects the vines from prevailing winds. However, the weather is particularly changeable, which does affect the vintages. As a consequence, some years of Chianti wine are better than others. For example, 2004 produced a beautiful vintage that has gone down in history as one of the best years for Chianti. Meanwhile, 2003 saw difficult heatwave conditions that resulted in unbalanced wines that we wouldn't recommend.
As a side note, it is worth pointing out that the Chianti wine region comprises seven sub-regions: Classico, Colli Aretini, Colli Fiorentini, Colline Pisane, Colli Senesi, Montalbano and Rùfina, each of which produces its own denomination of Chianti wine. By and large, wines from the Classico region are considered the best.
The history of Chianti wine
The cultivation of wine-grape vines in the Chianti region has been traced back to Etruscan times (before the Roman Empire) and ancient documents have revealed that not only did the Etruscans experiment with hybrids and different growing techniques, their Chianti wines were also widely appreciated across their empire. However, it wasn't until 1716 that wine making became "official" in Chianti, when Cosimo III, the Grand Duke of Tuscany, officially declared Chianti a wine-making region. Following from then, the Consortium for the Protection of Chianti Wine was created, as was their trademark: the Black Rooster.
Today, Chianti wine enjoys one of the highest levels of legal protection with DOCG status.
What's in a name
Historically, wines used to be named after the region that they were made, rather than the grape, which has led to Chianti being named after the region in which it is made rather than the Sangiovese grape that it is largely made from.
However, not all Chianti wines are the same – in general, there are two types of Chianti wine: Chianti and Chianti Classico. The latter is considered the more refined of the two as it is made from better quality grapes from vineyards in prime Chianti wine regions. In fact, Chianti Classico has even managed to dodge the poor weather conditions that have led to poor vintages in other Chianti wines due to the excellent location of the Classico vineyards.
Chianti wine making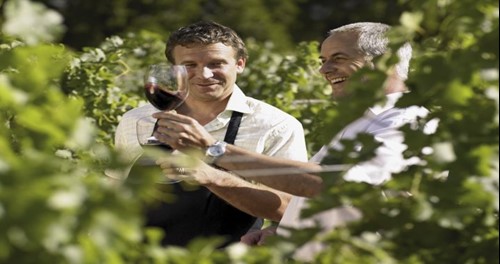 Chianti wine is legally protected via DOCG, and for a wine to be deemed a Chianti it must be made from at least 80% Sangiovese grapes from the Chianti region. Indeed, most Chianti wines are made exclusively from this type of grape. However, you will find some Chianti wines that include Cabernet, Merlot or Syrah grapes, which have the effect of softening the finish.
In general, Chianti wines are dry due to the high tannin content, and the flavour notes are earthy, with hints of cherries and strawberries. Plus, the high acidity makes Chianti a great wine to enjoy with dinner, especially Italian pasta!
Wine tours of Tuscany
A holiday to Tuscany is the perfect choice if you enjoy Italian wine and beautiful country landscape. We specialise in custom-made holidays to Tuscany and have a special Tuscany wine experience that has been hand-crafted by one of our travel experts for those with an interest in Chianti wines. It features 8 nights in Tuscany (3 nights in Florence and 5 nights in Impruneta) and also includes a wine-tasting tour of the Chianti region. It can be customised to your needs, meaning you can choose when to travel and you can even change the number of nights to suit your requirements. To find out more about our personalised holidays to Tuscany and award-winning customer service, please call a dedicated member of our travel team on (UK) 01223 637331 or (US) 347-594-5500. Alternatively, click here to send an online enquiry and we'll get back to you as soon as possible.
Search Keywords
Enter keywords below to perform a search within the events to find more relevant posts