Salvatore Ferragamo: An exhibition in Florence
Salvatore Ferragamo S.p.A. is an Italian luxury goods company famous across the globe for their iconic leather goods, especially their shoes.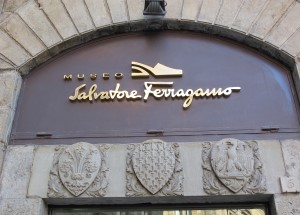 The Salvatore Ferragamo headquarters is in Palazzo Spini Feroni in Florence, where there is also a museum dedicated to the designer, who was originally from South Italy but emigrated to the US in 1914. After working with numerous Hollywood icons throughout the 1920s, including Joan Crawford and Gloria Swanson, Ferragamo returned to Italy in 1927, setting up his company, which now employs around 4000 people.
In honour of the 90th anniversary of Salvatore Ferragamo's return to Italy after spending 12 years in the US, there will be a special exhibition at the Salvatore Ferragamo Museum at Palazzo Spini Feroni, called "1927. The Return to Italy". The exhibition, which spans eight rooms, will be open to the public until May 2018 and gives visitors a wonderful insight into Ferragamo's creative mind, featuring hand-crafted Italian shoes from the 1920s, priceless fabrics, hand-drawn designs, photographs of Ferragamo and models of shoes designed for the stars, including a pair for Audrey Hepburn. There is even some rare film footage of the designer at work, making a visit to the Salvatore Ferragamo Museum in Florence a wonderful treat for anyone interested in fashion.
If you love fashion then why not enjoy a tailor-made shopping holiday in Italy? As a part of our customised holiday planning service, we can arrange a day shopping at the Barberino Designer Outlet near Florence, where you can browse designer stores, including Ralph Lauren, Michael Kors and Nike. To find out more about our customised Tuscany vacations, please call a dedicated member of our team on (UK) 01223 637331 or (US) 347-594-5500. Alternatively, please click here to send an online enquiry and we'll get back to you right away.
Search Keywords
Enter keywords below to perform a search within the events to find more relevant posts